Customer File & Customer Tracking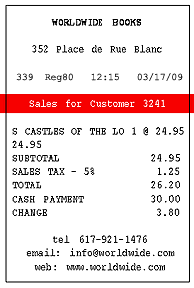 Retailers are facing fierce competition, so many are protecting their local markets by building better relationships with their customers. One fundamental way of doing this is to track and analyze customer purchases, not only to stay in stock of similar and related merchandise, but also to market actively to customers.
WordStock's Customer Tracking program enables you to track customer purchases and generate reports so you can determine the source of sales and take steps to increase that business by identifying repeat customers and making sure your store meets their expectations.
With Customer Tracking, you can define customer groups, such as Bookclubs, Reading circles, and professional memberships. The main Customer Tracking functions operate through the POS program and are very simple to use: at the beginning of a transaction, the cashier types "track" and is prompted to enter the number you've assigned to the customer.
If you expect to track most sales, you can configure your system to use tracking as the default, so you don't have to enter "track."
In case customers don't know their membership numbers, or don't have their membership cards, you can search the Customer File and grab their names on the fly. If customers aren't members, you can enroll them through the POS program; because WordStock is a real-time system, memberships become effective as soon as the data entry is complete.
Customer Tracking includes a complete suite of report generation tools; customer sales history can be viewed on-screen as well as printed.
Customer File produces very specific mailing lists and prints labels, to help you to reach a particular group of customers. For example, if you're having an illustrator in to sign, you can print mailing labels for your customers who live within a certain range of zip codes, and who have purchased art books in the last year and send each a personal invitation.