WordStock Customer Loyalty Cards
WordStock sells custom-printed plastic-laminated cards to use with your Customer Loyalty program: for less than the cost of a single color photocopy you can give your customers permanent, full-color cards printed with your own design and your store information.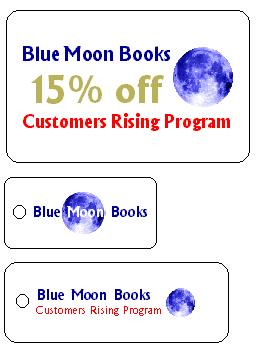 The cards are designed to work interactively with WordStock's Customer Loyalty program: each card has a barcode on the back that you scan to track the customer's purchases. Just scan the card at the register and WordStock automatically tracks the sale and allocates the purchase according to how your Loyalty program has been designed. If you don't have scanners, you can enter the customer's Loyalty number manually.
We offer three different formats: a card with a keytag (they share the same customer number), a card by itself, and a keytag by itself. (In our experience, the card and keytag combination is the most popular format.)
Each format is available printed either in full, four-color 'process' printing or digital printing. Four-color printing offers exact color matching, while digital printing can vary from one batch to another. Therefore, if having your colors match exactly is important to you, you should choose 4-color printing.
Be sure to read the detailed artwork specifications and requirements, below, as well as exact card and keytag dimensions. If you have questions about any aspect of these cards, please send email to Norm Gosselin.

Artwork-Related Fees
To avoid unnecessary fees, delays, and disappointment, card artwork must be approved by WordStock. If you have artwork you'd like to use, please send it to us for evaluation. Alternatively, we can create artwork for you from scratch or from existing materials, such as your store's logo or business card.
We bill artwork consultation and development at the rate of $150/hour, in 1/4-hour increments, with a minimum of one hour, but will credit the first hour with your order of 5000 or more cards.
If you have your own card manufacturer, we will charge for consultation to verify that your cards will work with WordStock and will require your vendor to sign a non-disclosure / non-compete agreement with us.
If you have any question relating to artwork or card production, please contact WordStock Sales.
Cost & Delivery Description
Cards are made of synthetic stock, laminated on both sides with plastic film for durability.
Each card set includes a wallet card [3-5/16" X 2-1/8"] and a keytag [2-1/8" X 1"].
Set-up Fee:
$375.00 this is a one-time fee that covers the cost of developing artwork and making the color separations and proofs

Timetable:
Allow 4 to 6 weeks after you approve the design

Payment Terms:
• 50% of quoted price, upon acceptance of artwork
• remaining 50% + shipping charges, upon delivery
Artwork Guidelines
» » » Please provide all artwork in a digital format, if possible

Card Terms & Specifications:
• Black barcodes printed on the back

• Cards have a .30 mil clear laminated film to protect artwork and the bar code

• Delivery: 4-6 weeks after acceptance of artwork

• Prices shown are for 5,000 cards -- call about other quantities

• Payment terms: 50% of Grand Total, upon acceptance of artwork; balance + shipping charges due upon delivery Artwork Specifications

• 'Non-bleed'graphics and text: keep 1/8" from edges;

• Color/Grayscale images: 300 dots-per-inch, 100%, saved as CMYK • Pantone colors ['PMS'] acceptable for 2-color designs. Resolution & Format Scanned images should be at least 300 dpi; lower resolutions will most likely result in poor quality printing.

» » » TIF format will result in the best quality artwork for scanned images.

Acceptable Software — we can use files from these programs:
• Adobe PageMaker 6.5
• Adobe Illustrator 9.0
• Adobe Photoshop 6.0
• Macromedia Freehand 9.0

• Keep text at least 1/8" from the die cut edge of the card or key tag.

Colors & Color Formats:
• Colors should be indicated using the Pantone Matching System.

• If PMS colors are not used, provide artwork in a CMYK format.

• Providing artwork in RGB format will result in inaccurate colors Non-Digital Artwork If you are not able to provide artwork in a digital format, we will need to scan your artwork for you. Please provide clean, crisp, black & white artwork.

• Screened areas will not scan correctly and will result in unclear images.

• Multicolor artwork should be indicated on a separate sheet.

• DO NOT DRAW on artwork and DO NOT FOLD artwork to be scanned.

Common Mistakes:
• Not providing fonts or imported graphics

• Providing low resolution graphics

• Providing RGB formatted color instead of CMYK