WordStock offers a complete working environment for retailers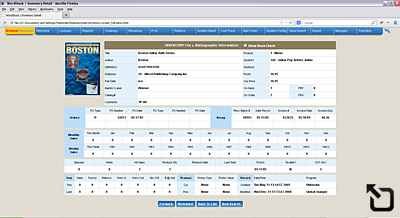 WordStock is a computer-based inventory control and point-of-sale system for retailers, with a particular focus on bookstores.
For 30 years, WordStock has helped stores to manage profitability by reducing investment in inventory and minimizing returns.
From a core inventory control program, i.e., ordering/receiving/selling, we've expanded our offerings to accommodate current practices, such as customer sales tracking and loyalty programs and connectivity to other systems.
In fact, WordStock pioneered many now-standard utilities, such as electronic ordering, real-time vendor sourcing, and electronic title records.
WordStock's versatility lets you run your business the way you want to run it. WordStock's reporting capabilities are unmatched in their unique flexibility and power: if you can describe what you want to know about your business in words, WordStock can help you to see it in a report.
Comprehensive special order, customer, and mail order programs help you to offer first-class customer service to make your store stand apart and to give you a competitive edge.
WordStock has been installed in hundreds of bookstores in 6 countries—in very large stores, as well as very small. WordStock is used in general stores, specialty stores, and multi-store organizations.
We're currently developing a new user interface that takes advantage of web and Internet technology to streamline development while offering a richer user experience. As you look through our web pages, you'll see screenshots of the programs we have in testing.
Throughout our 30 years, we've always strived to provide a comprehensive experience of quality and attention to our customers:
• Quality in the way WordStock has been designed to solve real-world problems;

• Quality in the way WordStock is sold — because there's no "off-the-shelf" store, we take the time to listen to your needs and develop WordStock systems after individual consultations;

• Quality in the way WordStock systems are assembled, in our own offices, by our own technical staff;

• Quality in the installation and training our staff provides in your store;

• Quality in after-sale service through our unique One-Call Support program.
To learn more about WordStock, we invite you to read through our site or to contact our Sales group for more information at 800-753-8673, Ext 212 or sales@wordstock.com

WordStock News
UPDATE [April 2015]
EMV / Chip & PIN /
Credit and Debit card processing
After considering the needs of our customers and studying possible alternatives, we have selected Point, an integrated hardware/software solution provided by Verifone.
While there are still many details to be resolved, things will work along these lines:
• A Verifone card reader running Point software will be installed at each WordStock POS register.
• When a customer pays with a debit or credit card, Wordstock will transfer control of the payment transaction to the Verifone device; all further interaction with the customer with respect to payment via a card will be on the Verifone device. This includes prompting the customer to "insert the card", "enter PIN", etc., as well as eventually obtaining a real-time authorization.
• Only the result of the authorization request will be relayed back to WordStock, at which point the sale can be concluded.
Note that not all Verifone devices can run the Point software; however, Point does run on a variety of Verifone hardware that spans a broad range of capability at comparable cost. We are evaluating several of these devices, including:
VX 520, VX 805, VX 820, MX 915, MX 925, e255, e315, e335, VX 680 GPRS

Verifone / Point Highlights
• EMV (Chip & PIN) capable;
• NFC (Apple and Google) capable;
• Every transaction is encrypted and guaranteed to be secure. Since no card data will be stored on the WordStock computer, PCI compliance at the computer system level is assured.
Charges for Verfone's Point package will be per-month per-device and can optionally include priority replacement service. Point software updates are included in the monthly fee.